CLUB KUDO are a collective of Musicians & DJs specialising in providing world class entertainment for weddings and corporate events. With over 30 years of combined experience, we know how to make your event one to remember!
ROAMING DUO/TRIO
£400 / £600
2 x 45min sets
Roaming or Static
Huge repertoire
Acoustic, Sax & Percussion
3 Vocals
CLUB KUDO DJ
£750
Music from 7pm till Midnight
PA and Lighting provided
Requests on the night
Huge database of tracks
Choice of booth
CLUB KUDO LIVE
£1250 / £1750
Club Kudo DJ Package
3 x 40min live sets
Extra lighting
Choice of Sax, Percussion or Both
Special Requests
RUSTIC BOOTH
This is our most popular booth, made from raw wood and vintage apple crates.  It works within the style of most wedding venues and comes as standard with all uplighting, 2 starburst FX lights and 2 moving heads. We also bring a selection of foliage to decorate the booth. Showcased here at The Post Barn in Newbury.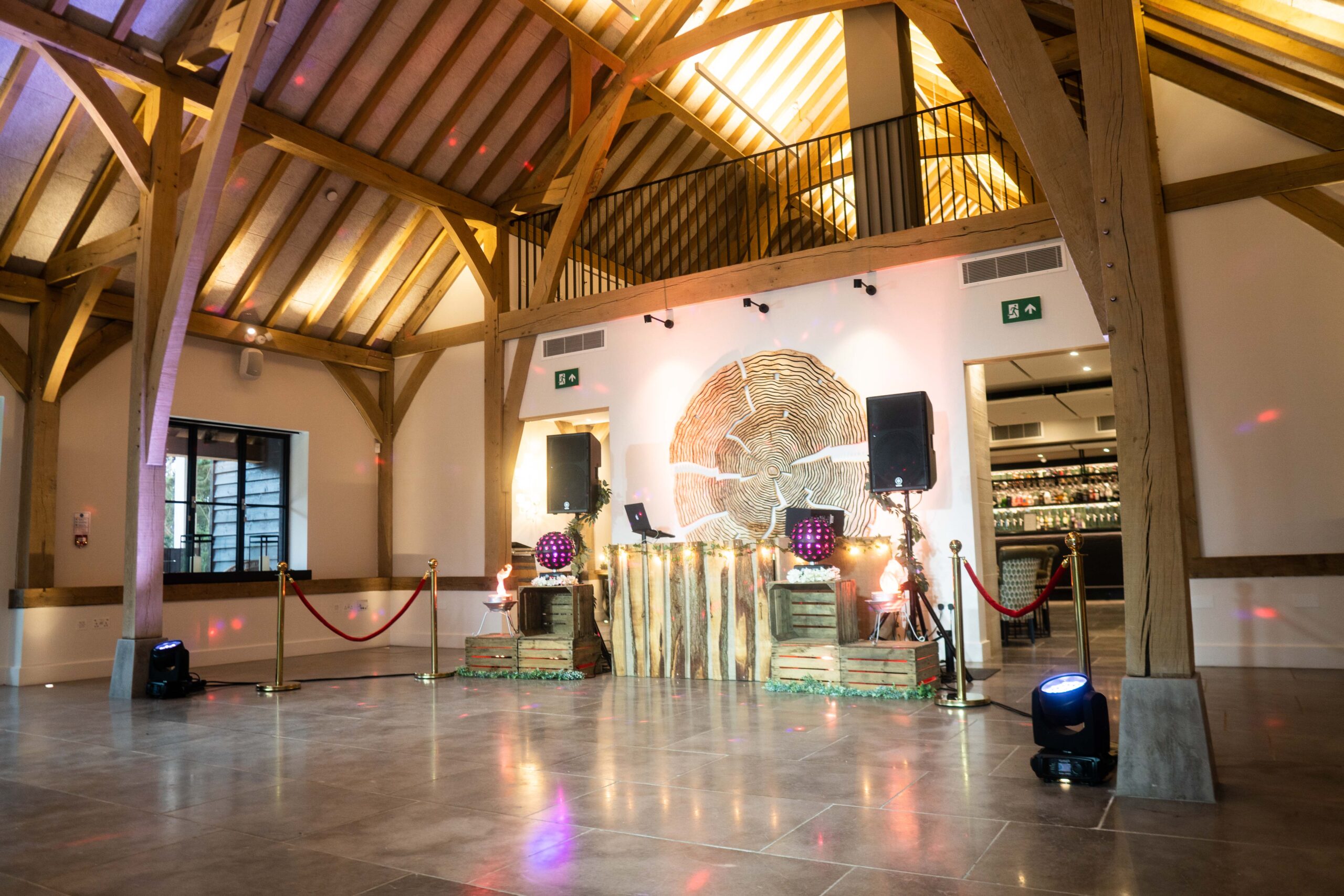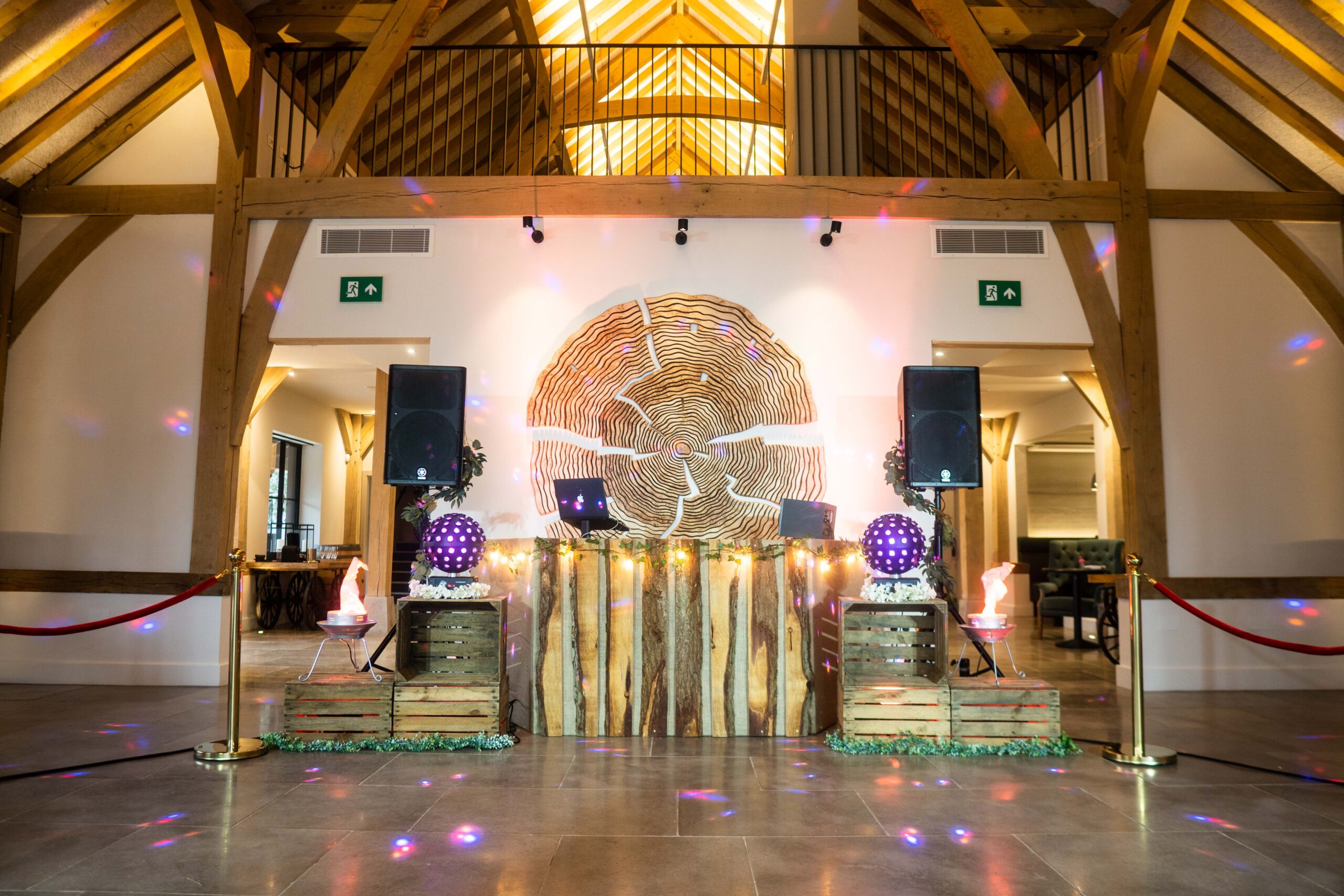 SPEAKER BOOTH
Another rustic style, but this time with 2 speaker stacks to frame the booth.  This is something a little more contemporary and ideal for clients looking to wow their guests as this isn't something you see very often!  We can mix and match the lighting to your taste but as standard this comes with all uplighting and 4 moving head lights.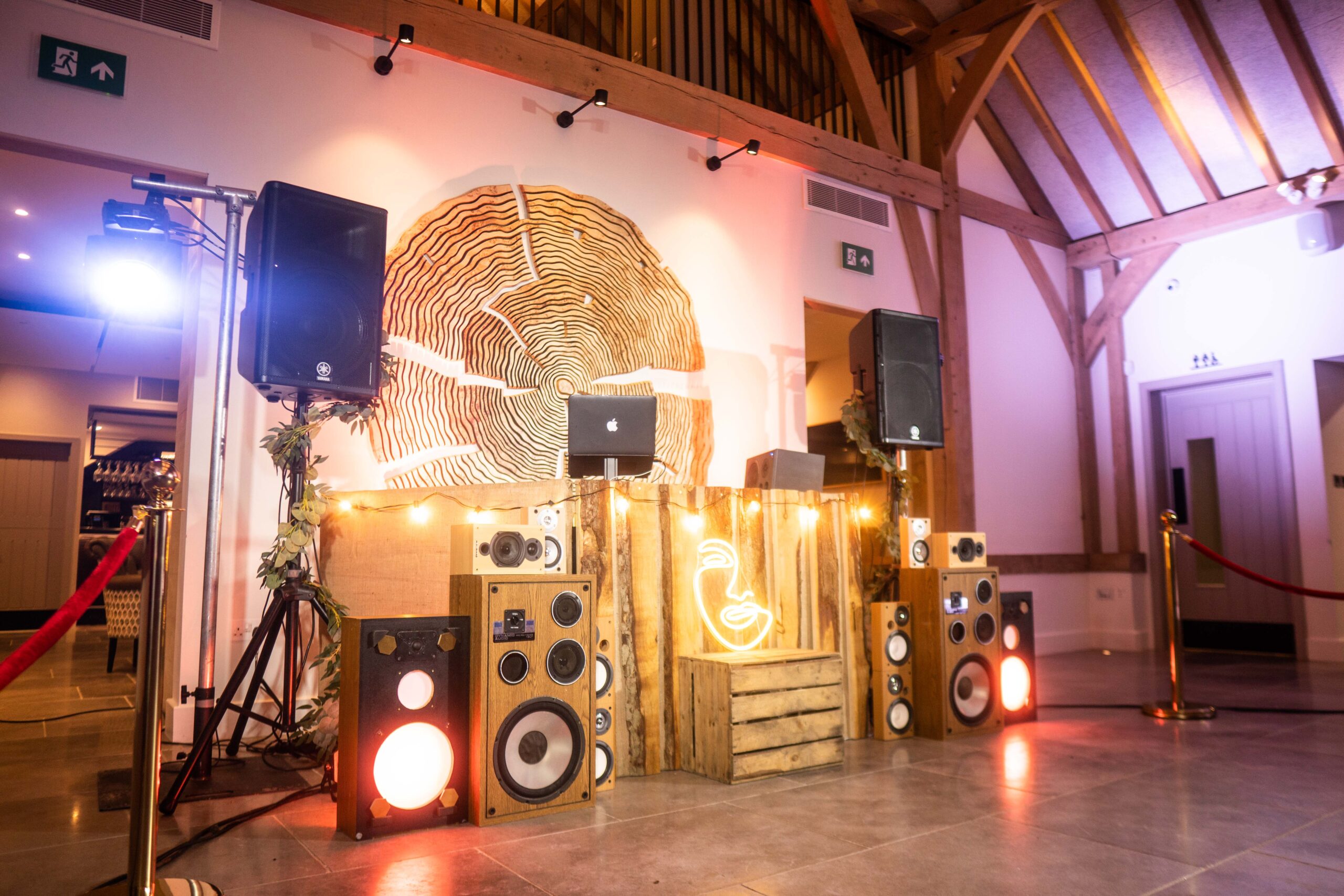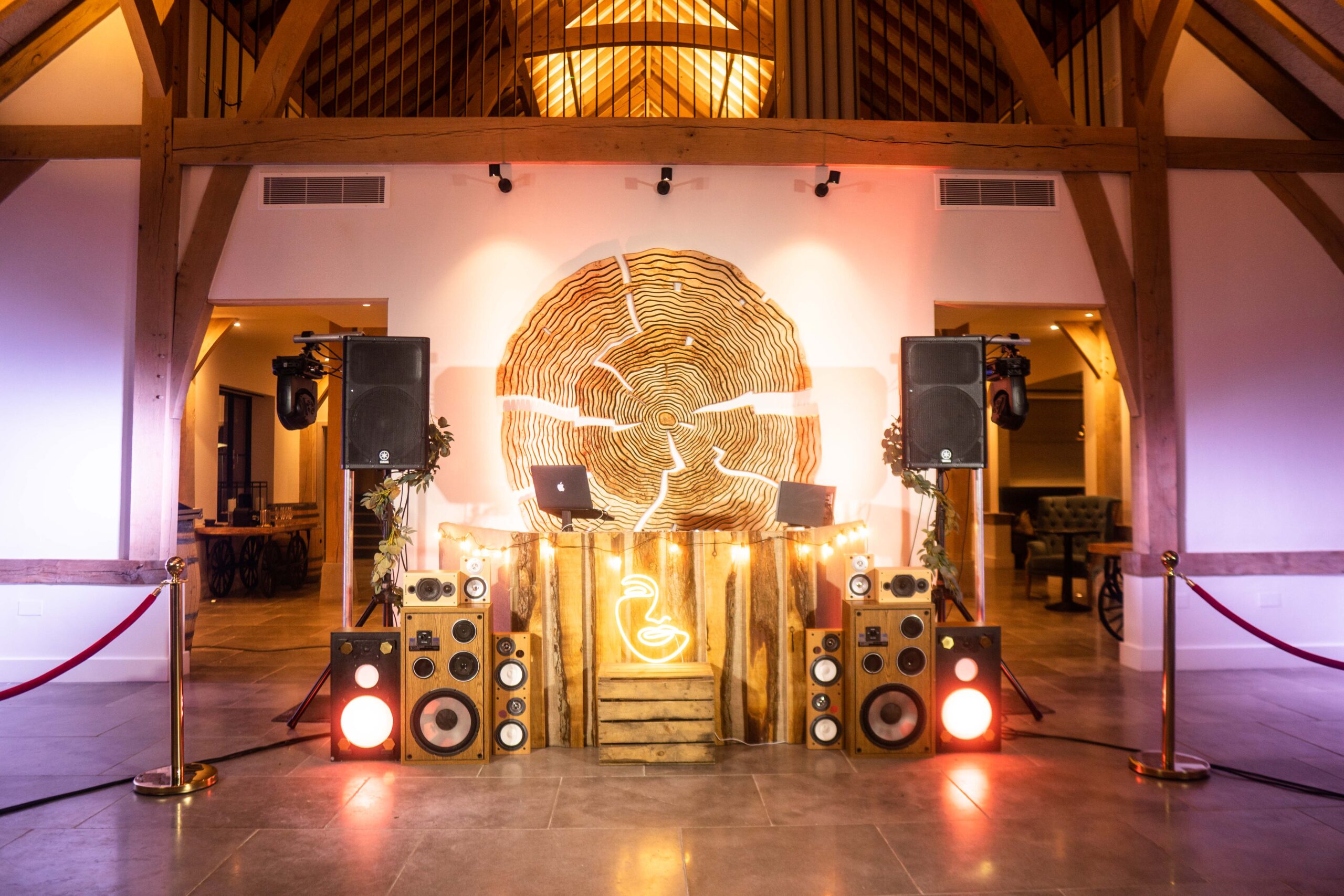 SEQUIN BOOTH
A new addition to the CLUB KUDO line-up! The styling for this booth is more modern with our triangle LED and a sequin wall to add a touch of glam. This booth works especially well in more modern wedding venues.  Here we are showcasing it in one of our favourite venues – Syrencot in somerset.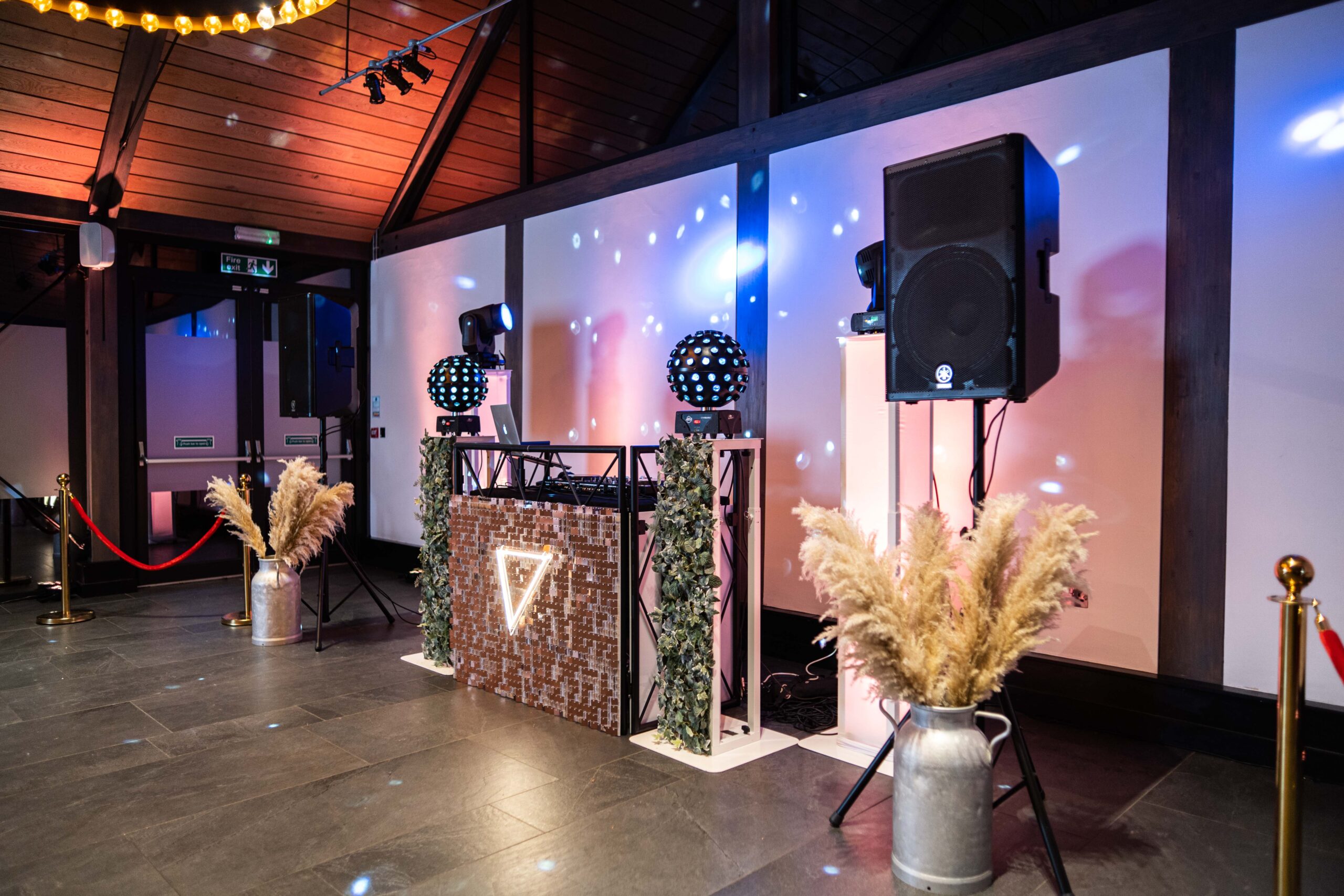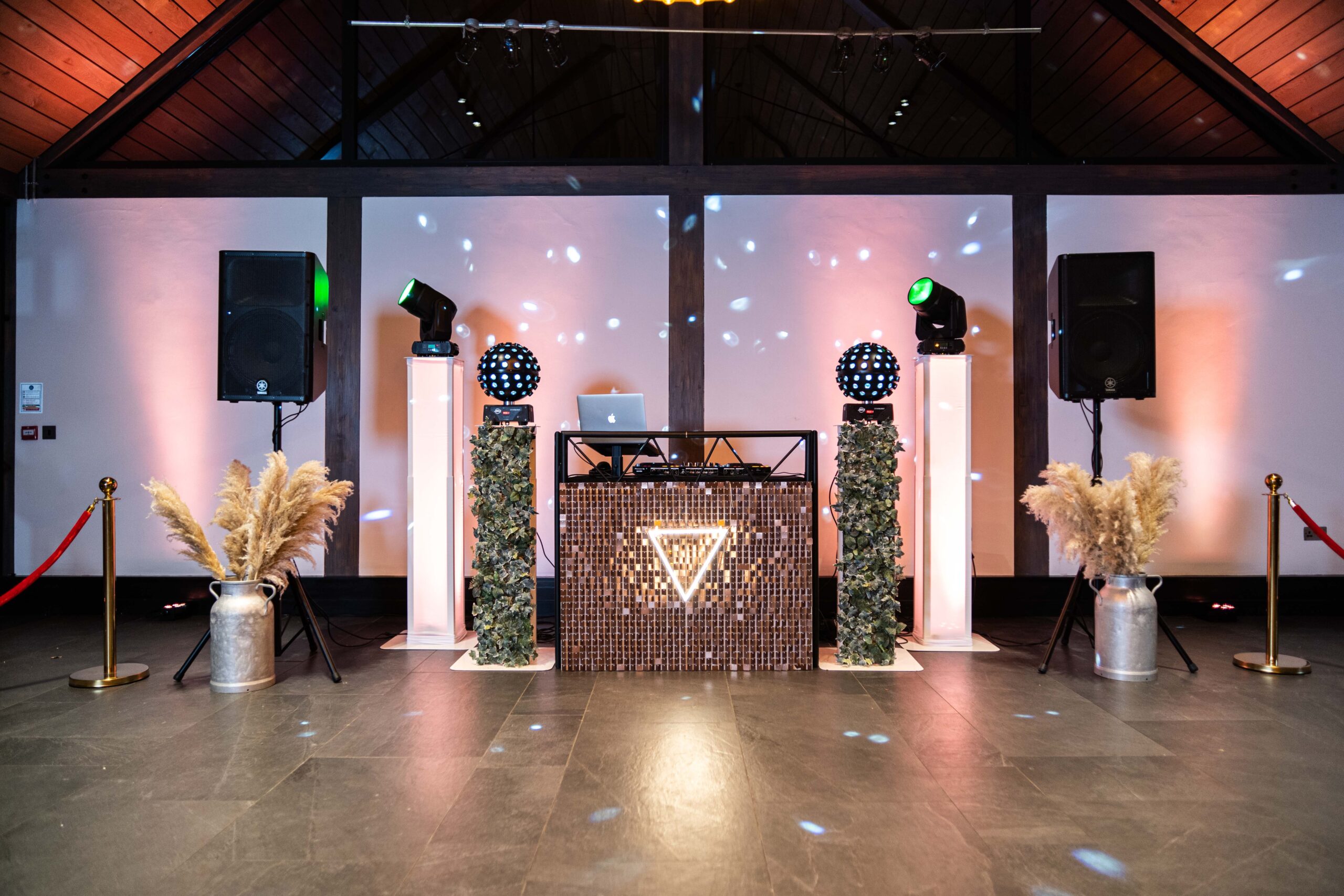 We are so happy we booked with Club Kudo! Our wedding was amazing and the whole setup looked stunning! We also had the roaming duo for our reception drinks and guests are still raving about them now! We'll be recommending you to everyone. Thanks again!
We booked Club Kudo live for our work Christmas party.  As we were arranging the event we found it so hard to find a DJ that was modern and had a setup that would work with our venue and Club Kudo worked brilliantly.  They were a pleasure to deal with right from the get go and we'll definitely be booking again for next year.
We couldn't recommend these guys highly enough.  We actually knew both Jake & Gazz from other events and always said we'd book them for our wedding and luckily for us they were free for our date! Guests were dancing all night and are still on a high from the wedding. It couldn't have gone any better! Thanks guys!
When will you arrive to set up?
We aim to arrive with no less than 1hr to load in and set up.  Ideally we'd prefer more time so let us know if we can get in early!
How much power do you need?
Our system doesn't use a large amount of power but to be safe we usually say a minimum of 4000kwatts
How much space do you need?
This depends on your booking, but for Club Kudo Live we'd need ideally a 5m x 3m performance area.  However if there's more, we'd love it! For our Club Kudo DJ service we'd ideally need a space of 3m x 2m as a minimum.
Do we need to provide food?
Most weddings have evening food arranged, so being included in that would be ideal.  If this isn't possible, then we would include a £15 per head charge to arrange our own food. 
Can you provide a PA and mic for speeches?
Yes! We have 2 radio mics and a dedicated PA for wedding breakfast speeches.  Same goes for any corporate events where there will be speeches as part of the evening.
Can we book a later finish?
Yes! We do many shows that finish at 1 or 2am. Let us know your vision for the evening and we'll accommodate!
Can we make requests on the day of the event?
Yes of course! If you've booked a Club Kudo DJ that includes any requests you might have.  Please bear in mind these might be less likely when there isn't any Wifi! 
Would you travel abroad for events?
Absolutely! Collectively we've performed all over the world and love being able to travel on the job! Let us know what you have in mind and we'll make it work!
What happens if someone in the band gets ill?
We're prepared for any eventuality and have several layers of backup musicians for the worst case scenario!
What happens if we have to cancel?
In this scenario we have our contracts in place which will require all or part of the booking to be paid depending on how close the event date is.  However, we're realistic and each case is different, so it all starts with a phone call.
Can we book a Club Kudo DJ alongside a different band?
Yes! We're more than happy to accommodate and liaise with your band to make sure our gear arrangements are in line for the event. 
Do we need to pay any travel expenses?
If you've booked us for an event abroad then yes! All UK events outside of Oxfordshire, Gloucestershire, Wiltshire and Berkshire will also require travel expenses to be covered.  We charge a fixed rate of 45ppm. 
Please fill in the below form if you have any questions or would like to make a booking.  Please be as detailed as possible so we can provide you with the most accurate quote/information.  We're also on Facebook and Instagram where we'd love to hear from you (Links in footer). If you'd prefer to email us direct with your query then you can do so at: